Bring Back Healthy Skin: Repairing Sun Damage
It's been another memorable summer here in Vancouver, where barbecues, patio drinks, and lots of time at the beach filled the sunny days. With all that time spent outdoors, my skin got a little more attention from the sun than it should have. If you're like me, you probably overindulged on some vitamin D too. Now that the days are getting shorter and the winter clouds have returned, it's time to get back into your regular skin care routine.

Pigmentation Discolouration Cause By Sunlight
It's well known that sunshine has a positive effect on our mood (and tan), but it can cause hyperpigmentation of our skin. Exposure to sunlight (even in small doses) is a major cause of hyperpigmentaion, and will darken already hyperpigmented areas. The sun can also have damaging effects on our skin beyond what we can see with the naked eye. These effects, if left untreated, can develop into unwanted skin problems down the road. Issues like wrinkles, and brown spots can result from sun exposure. There are however some excellent lightening creams that can help reduce the visibility of hyperpigmentation caused by the sun.
White Brite Serum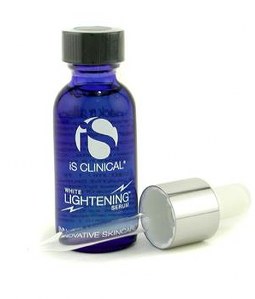 Known as White Lightening Serum in the US, the White Brite Serum by iS Clinical, when partnered with the White Brite Complex, is a proven combination for lightening uneven skin pigmentation. It works by targeting the areas of hyperpigmentation on your skin that have been affected by sunlight, such as freckles and brown spots, and lightens them to blend naturally with your skin tone. Using a blend of botanicals and IS's own proprietary lightening ingredients, the White Brite Serum is the ideal product to remedy that summer sun damage.
Bring New Life To Your Skin
Looking for longer lasting results? Then our photo rejuvenation treatments are the perfect choice. Using Broad Band Light technology, photo facial rejuvenation works to eliminate dark pigmentation from your face and body, leaving you with a more even skin tone. The importance of avoiding direct sunlight after each session makes autumn, and the cloudy weather it brings, the perfect time to start your treatments. The powerful and lasting results will leave your skin looking younger and fresher.
Look Good, Feel Good, Be Good
Your skin is your biggest organ and keeping it healthy and vibrant affects your overall well-being. Taking the time to care and repair your skin will give you the added boost that only beautiful skin can give you. Although the winter months are quickly approaching, it is important to always be mindful of your exposure to sun.